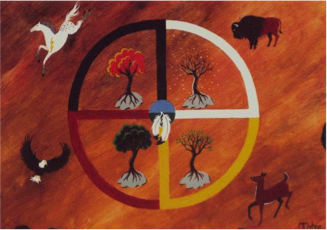 Henry Red Cloud from the Pine Ridge Reservation and Solar Energy International (SEI) have worked together and partnered on renewable energy training and projects for almost 20 years.  Now Henry's non-profit organization, Red Cloud Renewable (RCR) and Solar Energy International (SEI) are taking their partnership to a whole new level that will provide a greatly expanded Native American solar workforce, while  providing the solar trainers that will spread this technology all across Indian Country!
Solar Energy International has been the premiere solar training organization since 1991 with more than 70,000 students taking their courses.  More than 25% of all North American Board of Certified Energy Practitioners (NABCEP) have received their training through SEI.
Henry Red Cloud, through Lakota Solar Enterprises and now Red Cloud Renewable has been providing renewable energy and sustainable building training and projects for tribal members and communities since 2003.  Two recent solar installs include the 20 kW solar array for Kili Radio and the 2019 22.5 kW install for the Pine Ridge Girl's School.
Starting in the spring of 2019, they will provide a national certification level solar training program for tribal members that will lead to their NABCEP certification testing on October 18th, 2019.  Five trainees will be selected from all applicants to receive this professional level solar training.  All training expenses (including food and lodging) will be covered except for travel costs, which the trainee's tribe or other sponsor must cover.
To qualify for a position, a candidate must have some solar and/or other renewable energy experience.  They must commit to attending four week long courses – two at the Red Cloud Renewable Energy Center RCREC) on the Pine Ridge Reservation and two at SEI Headquarters in Paonia, Colorado.  They must also agree to teach a one week course….at RCREC at the end of October (with SEI trainer assistance). See specific dates below.
Upon completion of the training, the participants will be granted full access to the SEI Job Board and Mentor Network, which will connect them with many solar professionals and companies all across the United States.
Key Train the Trainer Dates
Sept 9-13 Train the Trainer (Session 1 – At RCREC) with SEI – PVOL101 (Grid-Direct)
Sept 23-27 Train the Trainer (Session 2 – At RCREC) w/ SEI – PVOL203 (Battery-Based)
Oct 7-11 Train the Trainer (Session 3) – At SEI in Colorado PV201 Lab (Grid-Direct)
Oct 14-18 Train the Trainer (Session 4) – At SEI in Colorado PV301 Lab (Battery-Based)
Oct 18 NABCEP National certification test at SEI
Oct 28-Nov 1 Train the Trainer (Session 5 – At RCREC) with SEI Trainer on site – Course 101
Some graduates may be offered the opportunity to further advance their solar career by becoming a SEI Instructor both here in the United States and possibly even internationally.
For those wanting to work within the national tribal community, participants will become part of RCR's Green Teams Across the Northern Plains, where trainees who have worked with Henry, will be encouraged and helped to develop solar and renewable energy projects on their own reservations and invited to join in on projects anywhere across the northern Plains and possibly much further.
Graduates of this program will also become part of the Advisory Board for the Red Cloud Renewable Energy Center (RCREC) and be invited to participate and possibly become a trainer in other renewable energy approaches and workshops presented at the Center (e.g. Off-Grid Solar Furnaces, solar water pumping, solar lighting and building mobile solar power stations and much more).
This is an incredible opportunity for tribal members who are serious about learning about solar energy and protecting Mother Earth.   
For more information about this program and to request an application, please contact
Richard Fox via email – richard@redcloudrenewable.org.
For other upcoming solar and renewable energy trainings keep an eye on the Redcloud Renewable Training Calendar.
Red CloudRenewable
P.O. Box 1609 • Pine Ridge, SD 57770 • 605-441-1140
Keep up-to-date on Johnny's renewable projects