Greetings friends and colleagues … Johnny Weiss here.
My decades working and teaching renewable energy has been a great joy. Recently, developing international community-based solar projects, and coordinating solar training programs on Native American reservations, have happily defined my current personal and professional endeavors.
With help from friends, volunteers and dedicated industry partners, I've had the special opportunity to bring practical, hands-on solar training to rural health clinics, village schools, and entrepreneurial small businesses.
Valuable contributions have provided necessary equipment and solar training to help teach others to use solar to better their lives. Every donation, whether equipment or monetary, has helped improve the quality of life for those in need and a better environment for all.
That is where you come in … I hope.
This year, we have many projects in the works.
In the Terat Village in the Simanjiro District of Maasailand, Tanzania, "asanti sana" means "thanks much!" I'd like to extend an asanti sana to everyone who continues to help our Tanzanian solar colleague Lukas Kariongi make a difference in villages throughout his district.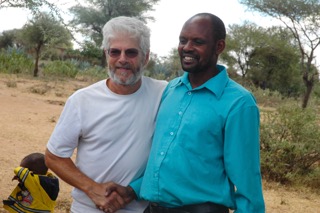 Lukas is a community leader, solar teacher, and SEI alum who has worked hard the past 20 years to solarize his home village. His special solar projects are going well with the help of the solar community's donations, and we're hoping support keeps coming in strong this Fall to help our ongoing efforts.
I'm committed to volunteering to help Lukas, the Founder and Managing Director of the Rural Community Support Organization (RUCOSUO), a grassroots NGO focused on vocational solar training and community development. This non-profit charitable organization is focused on solar projects. In Maasailand we plan to solar power a radio station, several secondary schools, and a solar training center.
Indiegogo Coming Soon
On Nov. 6, 2017, we're launching an Indiegogo crowdfunding campaign to fund our efforts. Our projects will be ongoing, so we are asking that you keep us in mind as the year ends for a charitable donation.
We all know solar PV can offer benefits for everything from maternal health care and school lighting to community development projects … and simple but important tasks such as cell phone charging! Ultimately, our solar projects will also help with water system pumping/distribution, solar home systems with radio/TV and refrigeration. Young people are especially interested in getting the internet and using smart phones! Women entrepreneurs want to grind their corn, operate sewing machines, make cheese, and improve their handicraft products.
To learn more about our solar energy work, watch my welcome video and this video on consulting and teaching in Tanzania.
Follow all my solar videos on my Vimeo channel.
And stay tuned for more information in the coming months about the launch of our Indiegogo campaign on Nov. 6.
Asanti sana!