We Care Solar was among 19 ground-breaking initiatives worldwide named as recipients of the United Nations 'Momentum for Change' Climate Solutions Award. I've been proud to work with the We Care Solar team in international locations, most recently in Tanzania, training and supervising PV installations on remote rural health care clinics.
We Care Solar promotes safe motherhood and reduces maternal mortality in developing regions, including Tanzania, Ethiopia, Sierra Leone, Liberia, Uganda, Kenya and Nepal, by providing health workers with reliable lighting, mobile communication, and medical devices using solar electricity. We Care Solar saves lives in childbirth by bringing solar power to remote, off-grid, and under-resourced medical centers. This initiative saves lives, as health workers no longer struggle to provide life-saving care with inadequate and dangerous lighting, such as kerosene lanterns, candles, and diesel fuel generators.
Each year, over 303,000 women die from pregnancy and childbirth complications, with most deaths occurring in Africa and Asia. Obstetric emergencies require prompt, appropriate, reliable care. Unreliable power and communication in health facilities result in life-threatening delays in care, inadequate lighting for obstetric and surgical procedures, underutilization of health facilities. The We Care Solar team works diligently to solve these issues that affect so many.
We Care Solar and it's fellow winners of the Momentum for Change Award underline how Global Climate Action is accelerating, two years after the Paris Agreement was universally adopted and in support of the Sustainable Development Goals. The Momentum for Change initiative, spearheaded by the UN Climate Change secretariat, shines light on some of the most innovative, scalable and practical examples of what people across the globe are doing to combat climate change.
Selected initiatives, called 'Lighthouse Activities,' demonstrate the exceptional amount of climate action happening around the world. The announcement of We Care Solar as a finalist is part of wider efforts to mobilize action and ambition, as national governments work toward implementing the Paris Climate Change Agreement and the Sustainable Development Goals.
"I want to congratulate this year's award winners," says Patricia Espinosa, Executive Secretary of UN Climate Change. "Their passion, creativity and positive impacts on the ground are extraordinary, real-world examples of how the implementation of the Paris Agreement and the wider SDGs is happening at all scales, across all countries, and across all sectors of society."
"We know that to meet our shared goals, ambition needs to be raised over the years and decades to come. These Lighthouse Activities provide direct inspiration to others—from developed and developing countries alike—to be agents of change that can catalyze communities and countries go further, faster, together," she added.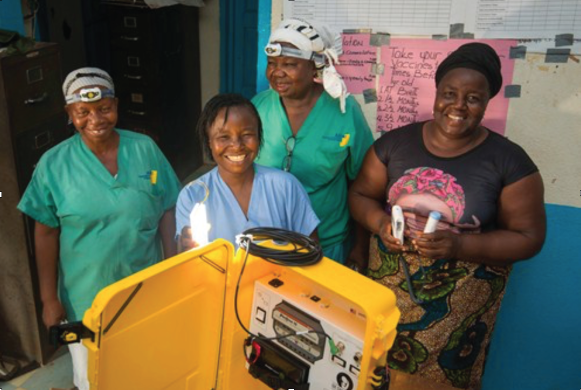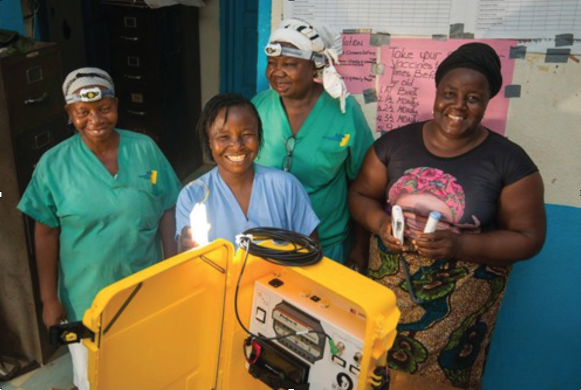 The 19 winning activities fall within one of Momentum for Change's five focus areas: Women for Results, Financing for Climate Friendly Investment, ICT Solutions, Planetary Health, and Climate Neutral Now. All 19 activities will be showcased at a series of special events during the UN Climate Change Conference (COP23) Nov. 6-17 in Bonn, Germany.
See videos on helping provide solar for rural health clinics, schools, entrepreneurs, and community projects.
•SEI alum Lukas Kariongi – Maasai Solar Warrior (blog)
•Terat, Tanzania: A "Smart Village" (5 minute video)
•UN acceptance speech video, Dr. Laura Stachel – We Care Solar (11 minute video)