Meet Associate Debby Tewa, Hopi Solar Professional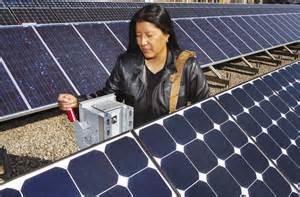 Debby and I met in the late '80s when she participated in a Photovoltaic (PV) workshop that I co-taught.
Debby and a few Hopi associates were setting out bring modern solar PV to her native community where sustainability and the wise use of limited resources are an intrinsic part of the culture. [Note: The Arizona-based Hopi live in the longest continually-settled community in North America.]
A few months ago, Debby returned to update her PV knowledge at Solar Energy International (SEI) in Paonia, CO. She was selected as the beneficiary of the 2014 Annual Johnny Weiss Scholarship. It was great to re-connect and discuss future collaborative projects.
These days, Debby's solar work on and off the res includes education, policy issues, and hands-on training to help install PV systems.  The links below will give you details about some of her work:
Seed Magazine, January 2015
---