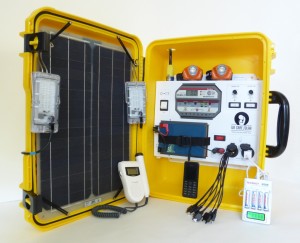 Greetings All…
I'm working in Tanzania with www.wecaresolar.org in February and March! We are training and supervising PV installations on remote rural health care clinics.
The We Care Solar Suitcase, shown at right, was originally designed to support timely and efficient emergency obstetric care, but can be used in a range of medical and humanitarian settings. For clinic installations, the yellow case becomes a cabinet that mounts to the wall, and the panels are secured to the roof.
The system includes high-efficiency LED medical task lighting, a universal cell phone charger, a battery charger for AAA or AA batteries, and outlets for 12V DC devices. The basic system comes with 40 or 80 watts of solar panels, and a 14 amp-hour sealed lead-acid battery.
---